CareStarter +
Travis AFB =
Resilient Families & Enhanced Readiness.
📸: Heide Couch. The appearance of U.S. Department of Defense (DoD) visual information does not imply or constitute DoD endorsement.
CareStarter delivers customized CareMaps, which are lists of
resources designed around age, location, & diagnosis.


Resources are delivered in six categories:
Education, Family, Medical, Nutrition, Recreation, & Therapy.
What is Travis AFB accomplishing with CareStarter?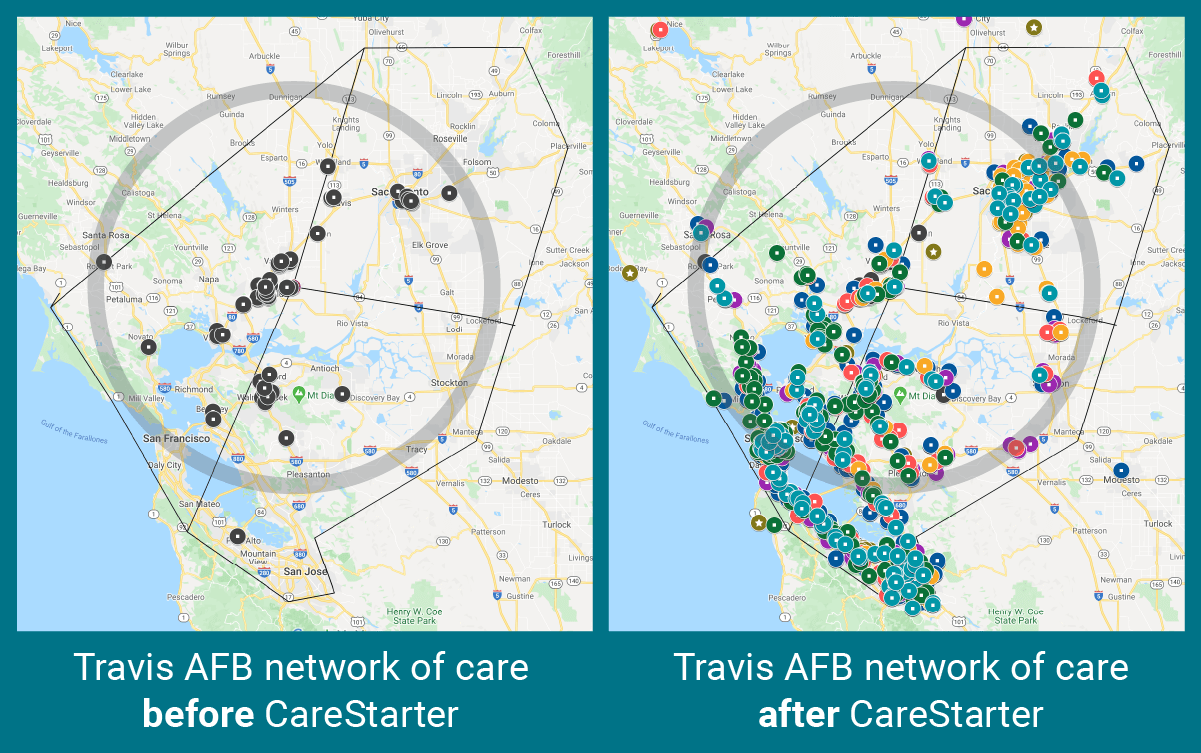 Travis AFB has partnered with CareStarter to improve the experience of military members and families who have special health care needs. The pilot objectives aim to improve family readiness for the Exceptional Family Member Program (EFMP) members by standardizing processes and highlighting the many available care resource providers within their community.
We are doing our best to get a CareMap to every inbound family before they arrive on Travis AFB.

By offering their services, area resource providers are actively meeting community need and bringing health and resilience to their communities. Our goal is to highlight those services so that incoming families have up-to-date information about what resources are available to them when they arrive at Travis Air Force Base. When a military family receives their travel determination, a family is notified of the area resources that are most relevant to their special care family member.
A health tech startup with heart.
We believe
that all individuals deserve to thrive on their life journey.
By persistently reaching out to providers and care coordinators, we seek to understand special care in a new way– one which focuses on the whole family. With this vision, CareStarter can deliver a carefully-curated, custom network of care for every individual.
FAQs about CareStarter at Travis AFB
How did CareStarter get my information?

CareStarter receives a minimal amount of information from your gaining installation's EFMP-M office. They send only what is required for us to build a CareMap™ that will meet your needs. This information is housed securely and used only to help create a better EFMP experience for you and your family.


What's the big deal about a CareMap? Why should I want one?

CareStarter was founded by parents of children with special medical and educational needs, and is staffed by parents of EFMP-enrolled children. In other words, many of us have direct experience dealing with the challenges faced by military families with EFMP enrolled dependents. We know money can be tight. We know you don't have a lot of time to hunt for providers.

CareStarter is dedicated to supply you with up-to-date, vetted resources that take TRICARE (where medical) or are affordable, and that are accepting patients. When you use a CareStarter CareMap, you can say goodbye to calling provider after provider just trying to find one that will take you.


How do I use my CareMap?

Your CareMap will come with a lot of resources, and that can be overwhelming. We strive to supply not only the resources required to meet medical/educational needs, but also with supplementary resources to help your whole family thrive.

Not every resource is going to be a good fit for you, and that's okay. Nobody knows your family like you do. Maybe your loved one isn't interested in a certain type of therapy, or maybe your child doesn't like sports; start by crossing off what just isn't right. After that, we find it useful to call the providers you might want, starting with your most urgent needs. We work to give you three provider options for each service category so that you can select the individual that most closely aligns with your family's needs and values.


Does CareStarter sell or trade my information?

Absolutely not. Respecting you begins with respecting your privacy. CareStarter treats your information with the greatest care and never sells or trades your information to any company. We are working alongside your medical care team to guarantee that your family is both well-resourced and respected.


Where does the funding come from? Are you trying to sell me something?

CareStarter is an innovative care management solution being put into use by your military medical care team on behalf of all EFMP-enrolled families relocating to Travis AFB. Our funding is provided by the greater military, not the individual servicemember. There are no fees or pay walls associated with our service– it is entirely free to military members stationed at or near Travis AFB.


My family is EFMP-enrolled. Why didn't I get a CareMap?

Check the email address you have listed with EFMP-M. If the address you have listed with EFMP-M is only your .mil, you may want to offer a civilian address, as many emails get snagged if they are being sent over NIPRnet.

Check your spam folder. Depending on your settings, your CareMap may have been filtered there. If you can't find it, reach out– we would be happy to replace it for you!


I loved my CareMap. Now we have orders again. Can I have a CareMap for my gaining installation?

CareStarter is dedicated to improving the EFMP experience nationwide. We are, however, a new innovation piloted at Travis AFB, and therefore do not yet have databases established elsewhere from which to supply you with up-to-date resources. Because CareStarter hand-vets every provider before passing that information on to you, we need to be established in an area before we can provide CareMaps for that area.

We do not currently provide CareMaps to installations other than Travis AFB, but we would love the opportunity to do so. If you are travelling to a base other than Travis AFB, please reach out to your gaining EFMP-M team and let them know they need CareStarter at their installation! You or your gaining EFMP-M team can reach us via the form below.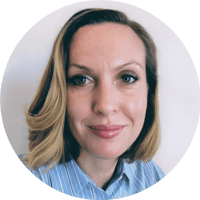 Connect with CareStarter's Military Family SME
Jessica Hulter brings extensive expertise in military culture to the CareStarter team. As an Air Force Spouse of 16+ years, she has firsthand experience with what the PCS process means for families enrolled in the Exceptional Family Member Program. Jessica has championed her family through six EFMP PCS moves while advocating for severely special needs children across multiple states, TRICARE regions, and school districts. She is extremely passionate about offering EFMP families an excellent support network and quality, compassionate care.
"This is awesome; this is great for families.

We were talking about everything needed to help families and this does the heavy lifting. We could use this also for those that move to a more remote place."
–Travis AFB resource provider, August 2021